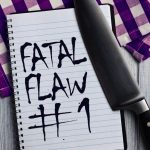 We're continuing our look at Fatal Flaw # 1: Overwriting. Fiction writers often overwrite, and have trouble seeing how this manifests in their prose. Last week we looked at details, and considered how much is too much. This week editor Christy Distler delves into the topics of repetition, redundancy, and excessive punctuation:
The first time I heard the phrase "write tight" was in high school English class. Our teacher returned our short stories and called me to her desk when class ended. "I love your story line," she said. "But you need to write tighter. I want you to go back through your story and cut out anything that's repetitive or not necessary. Don't use an entire paragraph to say what you can say with a sentence or two. And lay off the dashes."
I no longer have that short story, nor do I remember the entire story line, but I haven't forgotten the writing style I'd used. Three of its problems were repetition, redundancy, and overused punctuation. Just what are these three writing faux pas?
According to Merriam-Webster, repetition is defined as "the act of saying or doing something again; the act of repeating something." When repetition is applied to language, it becomes redundancy, or "the act of using a word, phrase, etc., that repeats something else and is therefore unnecessary." In fiction, repetition and redundancy rear themselves in several ways. Here are some examples:
repeating a certain word or phrase—e.g., just, very, he turned, she went
repeating a word structure—e.g., looked, stared, peered
repeating character traits—e.g., continually referring to a character's hair or eye color
repeating character actions—e.g., he scratched his beard or she bit her lip
using words that aren't necessary because their meaning is implied—e.g., stood up, collaborated together, screamed loudly.
No matter how repetition or redundancy is used, one thing is certain: it weakens the writing. And weak writing doesn't captivate readers.
Moving on, let's look at overused punctuation. You may be wondering what punctuation marks can be overused. Really, any of them (well, except probably the period—I have yet to hear an editor advise, "Try to go easy with the periods. You're using too many."). The ones that are most often overused include:
Exclamation point (!): Used to indicate yelling (in dialog) or extreme emotion (in narrative). Don't use more than one (!!), and don't use it in conjunction with a question mark (!?). Also, publishers tend to discourage its use (some want no more than two or three exclamation points in an entire manuscript). Why? The exclamation point allows weaker writing since the author can use it alone to indicate emotion. Instead, stronger dialog or narrative will better convey that emotion.
Question mark (?): Used to punctuate a question. Rules of thumb: Don't use more than one (??), and don't use it in conjunction with an exclamation point (?!).
Em dash (—): Used in several ways, including to offset information, to show an interruption in speech, or to show a sudden break in thought. Most editors recommend using em dashes sparingly (not a problem since commas often produce the same sentence flow).
Ellipses (. . .): Used to show trailing off of words (in dialog) or of an idea (in narrative), or to show hesitation in dialog. Ellipses fall into the same category as exclamation points and em dashes—use them carefully.
There are instances where an exclamation point, em dash, or ellipses would be the best punctuation to convey the appropriate intensity or flow. The key is to use them sparingly so their effect is not lost in repetition.
Take a look at these Before and After excerpts and see if you can pick out the issues we've discussed.
BEFORE:
I'd just about fallen asleep when I heard the sound—a sound I'd never wanted to hear. It sounded like a thud and loud shuffling noise downstairs. I sat up in the dark and just listened silently as I chewed my lip. Throwing the covers back, I stood up and found my way through the darkness to the door. I stopped, opened the unlatched door, and peered out into the blackness of the hallway . . .
There was the sound again!! Had someone broken into the house?!
I slipped out into the hallway and moved slowly through the dark, finding my way to top of the stairs. My whole body shook—trembling like I never had before. What if someone had broken in??
There was the sound again!! I stopped at the stairs and peered down into the blackness below. Listening silently, I bit my lip. I started down the steps, taking one step at a time . . .
Suddenly I heard a cat's yowl, and my cat came running up the steps. I went down a few more steps and looked over the railing into the living room. In the dim light streaming inside through the front window, I could see my school textbooks and the papers of my research report on the floor by the coffee table.
It had only been the cat!
AFTER:
Wait, what was that? I listened, unable to move or even breathe. Although on the edge of sleep, I'd heard something. A thud and scuffling downstairs. I sat up and threw the covers back, then slid out of bed. Cracking the unlatched door another inch, I peered out into the darkness of the hallway. Maybe my imagination was running away with me.
The sound came again, this time resembling the shuffling of papers. Had someone broken into the house?
I crept down the hallway and stopped at the top of the stairs. My heart pounded as I grasped the bannister with a trembling hand. After a few moments, I slowly descended the steps one at a time.
A cat's yowl pierced the silence, and my cat tore up the stairs.
I blew out my breath, still shaking despite my relief, and padded down until I could see into the living room below. In the dim light that streamed in through the front window, my textbooks and the papers of my research report lay strewn next to the coffee table.
Crazy cat.
So what did you see wrong with the Before narrative (hint, hint—a lot, and I didn't list them all)? Let's break it down:
Repetition:
Forms of sound are used five times.
Darkness, blackness, and dark are used convey the same meaning.
Shook" and trembling used in the same sentence.
Peered is used twice.
Found my way and finding my way were used.
Redundancy:
Problem: just about. Fix: about (better yet, reword the sentence).
Problem: just listened silently. Fix: listened (just isn't necessary, and of course we're silent when we listen).
Problem: stood up. Fix: stood (up isn't necessary).
Problem: the character chews her lip and then bites her lip. Fix: Be careful of repeated character actions.
Problem: streaming inside through. Fix: streaming through (inside isn't necessary since that's obvious).
Overused Punctuation:
Double exclamation mark, double question marks, and combined question mark and exclamation mark are used.
Em dash used where a comma would be appropriate.
Ellipses used where a period would be appropriate.
That all said, keep in mind that everyone has a different writing style. Some authors write tighter than others, and that's to be expected. Just remember that when a facet of writing is overused—whether it be words or phrases, character traits or actions, or punctuation—it loses its impact. If you weed out repetition and redundancy and choose punctuation carefully, you'll love the improvement you see.
Your turn:
Do you struggle with repetition, redundancy, or overuse of punctuation? Which do you find most in your writing? If you've improved in any of these areas, do you have any tips for how others can do the same?