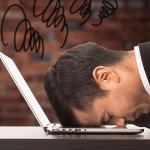 Less is more. More impacting. More riveting. More intriguing. Throughout history, marriages have failed and wars have been won or lost over a mere word or two. Jesus said, "Let your yes mean yes and your no mean no." Simply stated, as was his style.
I often share with my clients something my eleventh-grade English teacher used to spout frequently: "Say what you mean. Don't say what you don't mean."
The best way to say what you mean is to use only the words you need—the most appropriate words for your context—and discard the rest. Think of the pages of your novel as expensive real estate. Writers who want to write well should aim to be as picky about the words they string together as the foods they eat or the clothes they wear. Pickier.
Bogging Down Your Writing Is a Bad Thing
Your novel's pacing will be greatly affected by word choice. If you bog down your sentences with unnecessary words, your scenes will drag. In addition, using boring, flat, or weak verbs and adjectives will make the reading dull, no matter how exciting your plot might be.
Take a look at this Before passage and see if you can spot some of the problems. Then read my revision and compare.
 Before:
Suddenly, lightning struck!!! It was so loud and noisy, Debby screamed and lost hand control of her drinking glass, spilling it and shattering it on the Italian stone coffee table. Somehow, the power was gone, a blackout took place, and Debby trembled as she fearfully listened to the thunder rolling in louder in waves than usual. She felt it was so loud, the house began to shake. As if being in the middle of an earthquake. She began to cry and instantly the danger passed and everything was calm.
Debby was still frozen, too afraid to move much. She slowly turned her head to the left and then to the right as she focused her attention on what was going on through the front room window. She heard the sound of a loud vehicle idling outside of her home and that sound grew louder. Approaching the window with caution, she slowly pulled the left curtain open. Her eyes widened as she saw an old run-down rusty car parked out in front of her house. It showed no headlights . . . just sitting and idling with an ominous sound coming from its tailpipe.
A cold draft suddenly made Debby tremble greatly as she began to see what was starting to materialize. Two red beams of light, very small, like tiny eyes, began to glow from within the car where the driver was sitting on the front seat. The glow grew brighter and then she realized suddenly that they were indeed eyes and they were gazing right at her!!! Debby started to gasp for breath and she felt her heart was suddenly stricken with intense pain as if there was a tight grip of a fist around it . . . tightening. As her pain grew, her body began to crouch forward, nearly ripping the curtain off its rod.
Was that exhausting to read? Try this.
 After:
Without warning, lightning struck. Debby screamed and dropped her glass, which shattered on the Italian stone coffee table. The lights flickered out, and she trembled as thunder shook the house as if an earthquake rolled under it. Then, the night quieted, except for the patter of heavy rain and the murmur of distant thunder.
Debby froze, trembling. She turned and peered through the front room window. A motor idled on the street. With barely a touch, she pulled the curtain aside. A badly damaged black-and-white patrol car sat parked in front of her house, headlights off, no red-and-blue flashing lights. An ominous sound came from its tailpipe.
A cold draft tickled Debby's neck as she watched two red beams of light, like eyes, glow inside the dark car where a driver sat. The glow grew brighter and Debby gasped. They were eyes—and they were gazing right at her.
A stab of pain made Debby clutch her chest. With a cry, she buckled with her fist entangled in the curtain and fell to the floor, the fluttering cloth covering her face like a shroud of death.
The first thing you probably noticed is the word count dropped by about a third. Think about ditching adverbs and replacing weak verbs with stronger ones. Avoid excessive punctuation, such as multiple exclamation marks.
A great way to seek and destroy extraneous words and passages is to use Word's Find and Replace. Search for it was, there were, ing, and ly. Often a word ending in ing will reveal a wordy phrase, and ly will catch adverbs (we'll cover pesky adverbs in a later chapter).
Overall, take the time to consider each word you use and see if you can't come up with a better word, maybe one more colorful or descriptive. A phrase like "It was interesting and I liked it" is not interesting, and readers won't like it. Write in your unique style and genre, but do it well.
Think of rewriting as creating a reduction sauce. The more you can eliminate those words and phrases that are not rich in flavor, the less you will have in the end. Which is more. And more, in most cases, is better.
What words or phrases do you often use that are superfluous?
---
Don't fall victim to the fatal flaws of fiction writing.
This extensive resource is like no other! With more than sixty before and after passages, we five editors show writers how to seek and destroy these flaws that can infest and ruin your writing.
Here are some of the 12 fatal flaws:
Overwriting—the most egregious and common flaw in fiction writing.
Nothin' Happenin'—Too many stories take too long to get going. Learn what it means to start in medias res.
Weak Construction—It sneaks in at the level of words and sentences, and rears up in up in the form of passive voice, ing verbs, and misplaced modifiers.
Too Much Backstory—the bane of many manuscripts. Backstory has its place, but too often it serves as an info dump and bogs down pacing.
POV Violations—Head hopping, characters knowing things they can't know, and foreshadowing are just some of the many POV violations explored.
Telling instead of Showing—Writers have heard this admonition, but there's a lot to understanding how and when to show instead of tell.
Lack of Pacing and Tension—Many factors affect pacing and tension: clunky passages, mundane dialogue, unimportant information, and so much more.
Flawed Dialogue Construction—Writers need to learn to balance speech and narrative tags and avoid "on the nose" speech.
"Underwriting"—just as fatal as overwriting. Too often scenes are lacking the necessary actions, descriptions, and details needed to bring them to life.
Description Deficiencies and Excesses—Learning how to balance description is challenging, and writers need to choose wisely just what to describe and in what way.
Don't be left in the dark. Learn what causes these flaws and apply the fixes in your own stories.
No one need suffer novel failure. You don't have to be brilliant or talented to write strong fiction. You just need to be forewarned and forearmed to be able to tackle these culprits. And this book will give you all the weapons and knowledge you need.
"This book should be on every writer's bookshelf." —Cheryl Kaye Tardif, international best-selling author