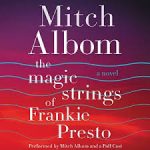 In this post we're continuing our look at best-seller first pages. The Magic Strings of Frankie Presto By Mitch Albom is in the Religious/Inspirational category and rides high on the best-seller lists.
With a clever, catchy concept, this novel takes readers on a journey through the life of Frankie Presto, a war orphan raised by a blind music teacher in a small Spanish town. At nine years old, Frankie is sent to America in the bottom of a boat. His only possession is an old guitar and six precious strings.
But Frankie's talent is touched by the gods, and his amazing journey weaves him through the musical landscape of the 20th century, from classical to jazz to rock and roll, with his stunning talent affecting numerous stars along the way, including Hank Williams, Elvis Presley, Carole King, Wynton Marsalis, and even KISS.
What makes this story intriguing (a concept with a kicker) is the structure. Music personified is not only a present narrator; it also has a distinct personality that fills the pages. Interspersed with Music's relating of Frankie's life are sections in the POVs of the various musicians (with their unique voices) in which these characters share their experiences and feelings about Frankie.
One great way to attract readers is to come up with that unique concept. If you are writing a novel that's basically the same old story everyone has read before, and it doesn't have any kicker to it, it's going to be hard to find success with such a book unless your writing is beyond amazing.
Conversely, just because you have a clever kicker that moves your story concept from ordinary to intriguing, that doesn't guarantee your target audience will love it, even if you write it well. But just know that having that great kicker gives you a serious advantage.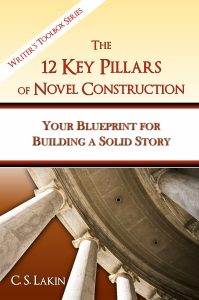 That's why I emphasize so strongly that writers need to really hammer out that concept—before getting too far into the writing, if possible—and ensure their story concept is strong enough to work into a novel. Way too many concepts are weak or just don't "have the legs" to fill out a whole novel. They may work great as short stories but not as a full-fledged novel.
It's also important to understand that a strong story concept must be centered on one character and his goal. In a book like this one we're examining, one with a creative structure, that plot goal might be obscure. With family sagas and fictional biographies, the emphasis is more on the themes or message of the overall story, which may be the case here as Music shares the wild life of Frankie Presto.
But there clearly is a main character (Frankie) and we can guess his goal was to play the best music he could, maybe become known as the best guitarist in history. I haven't read this book yet (on my list!), but I'm curious to know if Frankie pursues a clear goal, and I'm guessing he probably does.
If you are struggling with your concept or you're unsure if your idea has the potential to become a great novel, take some time and read through my chapters (or past blog posts) in The 12 Key Pillars of Novel Construction. I go deep into explaining what's needed in a strong concept with a kicker. You can also take my FREE online mini course (Yep, free!) on the 4 Essential Pillars of Novel Structure. It explains all that about the concept (and I've even included some great movie clips in the video lectures). You can enroll in my school (Writing for Life Workshops) HERE, then just click on the free course!
We're using my first-page checklist to go through the author's first page to see why it effectively draws the reader quickly into the story. While novels don't have to have every one of these checklist elements on the first page, usually the more they do have, the stronger the opening. So let's take a look at Mitch Albom's creative first page.
1
I have come to claim my prize.
He is there, inside the coffin. In truth, he is mine already. But a good musician holds respectfully until the final notes are played. This man's melody is finished, but his mourners have come a great distance to add a few stanzas. A coda, of sorts.
Let us listen.
Heaven can wait.
Do I frighten you? I shouldn't. I am not death. A grim reaper in a hood, reeking of decay? As your young people say—please.
Nor am I the Great Judge whom you all fear at the end. Who am I to judge a life? I have been with the bad and the good. I hold no verdict on the wrongs this man committed. Nor do I measure his virtues.
I do know a great deal about him: the spells he wove with his guitar, the crowds he enthralled with that deep, breathy voice.
The lives he changed with his six blue strings.
I could share all this.
Or I could rest.
I always make time to rest.
Do you think me coy? I am at times. I am also sweet and calming and dissonant and angry and difficult and simple, as soothing as poured sand, as piercing as a pinprick.
I am Music. And I am here for the soul of Frankie Presto. Not all of it. Just the rather large part he took from me when he came into this world. However well used, I am a loan, not a possession. You give me back upon departure.
I will gather up Frankie's talent to spread on newborn souls. And I will do the same with yours one day. There is a reason you glance up when you first hear a melody, or tap your foot to the sound of a drum.
All humans are musical.
Why else would the Lord give you a beating heart?
Why This Works
So, let's go through the checklist:
Opening hook: Clever writing and image that grabs the reader. The reader will wonder from the first sentence who is telling this story, which is answered shortly. The voice is intriguing as are the circumstances.
Introduction of main character in first few lines: In a sense. The author does a wonderful job of writing from the POV of an unknown character (in the opening paragraphs), and then slowly revealing who the voice belongs to.
Starting the story in the middle of something that's happened (or happening): Someone has died and the POV character has come to claim what is in the coffin. The person? Or something else? We then learn Music is there to take back the muse leant to Frankie.
A nod to setting; avoid excessive exposition or narrative: The setting of the scene is a funeral. The author shows the setting through the POV character's narration when he mentions a coffin, mourners, etc.
A catalyst, inciting incident, or complication introduced for your character: Frankie is dead. Is his death the inciting incident? The complication? This isn't revealed on the first page. But we see Music begin to tell us about Frankie and we guess that the book will be a kind of biography told from this unique point of view.
A hint at character's immediate intentions: The POV character, who we learn is music personified, has come to claim what is his—the gift of music—from Frankie Presto.
A hint at character's hidden need, desire, goal, dream, fear: Possibly to spread the gift of music. Or share a story of a life that successfully used the gift of music. It's not clear why Music wants to tell Frankie's story; it seems to be here only in a perfunctory role: to gather back the music.
Unique voice/writing style: The voice, music personified, is definitely unique and well written.
Setting the tone for the entire book: Yes, the voice of Music has quite a personality, and it infuses the pages of this story with Music as a present narrator.
A glimpse at character's personal history, personality—shed light on motivation: He has come to take back Frankie's talent to "spread on newborn souls."
Hint of character's initial plot goal: There's a hint that perhaps this story will be about "the lives he changes with his six blue strings"—a story about Frankie's talent and how he used it.
A course of action/decision implied. Introduction of high stakes/dramatic tension: No.
Good pacing: jump right into present action. No backstory: Music shares backstory about Frankie—tells the reader about his talent and the lives he changed.
One characteristic to reveal that makes your character heroic and vulnerable: Again, who is the main character? Music or Frankie? Music is heroic, perhaps, as it doles out musical talent. Frankie is heroic, maybe, because of the lives he changed. Is he vulnerable in death?
One element of mystery, something hinted at that raises curiosity. One element out of the ordinary, unusual, that makes your book different/stand out: Having Music be the narrator and assessor of Frankie's musical career is a curious element. I want to read more to find out more. Will Music have a voice throughout the story? What's Frankie's story? What happened? How did he change people's lives? And what about those wrongs Music mentions? Clearly Frankie did some things that created conflict.
Concise, catchy dialogue (if in the first scene) that is not boring or predictable: No dialogue.
A hint at theme: The last two sentences of the first page may hint at the theme: All humans are musical. Why else would the Lord give you a beating heart? Clearly music is at the heart of the themes in this story—how it is used to impact lives.
What Could Have Been Better
I really enjoy this imaginative approach to telling the story of a character's life. I find the voice of Music engaging and intriguing. While this voice is a little corny and obnoxious to me in places (more on subsequent pages), it's not all that irritating.
What I pick up on is the author's sense of pride in his cleverness, and so Music comes across a little too cute at times: "Do you think me coy? I am at times. I am also sweet and calming and dissonant and angry . . ." It's a subtle voice issue, and I'd prefer to have Music not tell me what it's all about. I'd rather see for myself through the story.
The voice of Music is also a bit stiff and stilted, and if I picture Antonia Banderas with his suave accent narrating, I have no problem with it (after all, it's a story about a Spanish man . . .).
While I like all the music metaphors and elements, it might be a bit too much for the first page with the coda and rests and explanations of what Music does.
I do, however really like how Music lays out why it's here at the funeral, and the idea that we all have music within our hearts, and that after we die, that portion of our creativity will be transferred to someone else.
I don't have a lot to pick at on this first page. Albom does a wonderful job of setting up the story, hinting enough at Frankie's life, at the premise and purpose of the novel, to grab reader interest.
I'd take out the lines "I could share all this. Or I could rest. I always make time to rest." Sure, in music, there are moments of rest. But do we need to know this? That Music rests? I don't think so. And that line about being coy bothers me. There are these kinds of lines on the pages that follow, that draw pointed attention to the narrator. In this novel, the narrator is palpably in the story, unlike other novels in which a narrator is mostly off stage. It might just be a personal "personality" issue for me—that I don't imagine Music with that kind of "cute" and clever-sounding personality. But it doesn't put me off either.
Would I read more? I think so. I'd want to get quickly into some interesting "showing" of Frankie in his life and find his character intriguing enough to stick with the story. Music promises he has such a life story. And, from the success of this novel, no doubt it delivers.
Your thoughts? Did you find this opening page engaging? Would you keep reading? What did you like most? Anything off-putting?
---
Want to read all the analyses of best-seller first pages on Live Write Thrive?
Get the compiled collection of posts, along with additional insights and instruction that will help your first pages rock!
First Pages of Best Sellers: What Works, What Doesn't, and Why is available in Kindle ebook and paperback! Get yours HERE!