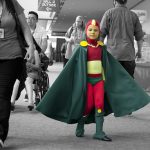 We're continuing our look at the second corner pillar of novel construction—protagonist with a goal. Last week we explored how our main character must have a visible goal, and paired with that plot goal is a spiritual one, which is tied closely with the character's core need. Both goals are "resolved" at the climax of the novel.
Why do I say "resolved" instead of reached? Because the hero may fail to reach his goals—and that might be the point of your novel and your intent. You're the author; you get to decide that. In a post-modern-style novel, a protagonist may not only fail to reach her goal, she may not change or learn from the ordeals she's been through, which would be sad, but, hey—that's life, right? And that could be the structure of a strongly built novel. It all depends on your theme and the take-home message you mean to leave with your reader.
What's in a Character Arc?
We've all heard about character arcs, but I don't see much written about how you determine just what that arc is. Writers are told characters have to grow and change, perhaps learn some important life lesson by the end of the novel. Or maybe not.
There are plenty of novels that don't show much of a character arc. Rather, the focus of the book is tied in solely with plot. Genres like thrillers and romance sometimes are all about plot, with the characters there to serve the plot, rather than the other way around. Some readers don't care about character growth or change. And that's fine. Readers read for many different reasons. There are some books I've thoroughly enjoyed reading that are hilarious rides or tense suspense, and the protagonist doesn't "grow" or "learn anything" by the end of the novel. Part of that is genre; part is the author's choice.
But if that's the case, then the burden of the novel rests on the plot, and a writer engaging in developing such a story will need to be sure to have that clear visible goal for the protagonist. And that goal should be tying in with the theme and featuring some very solid conflict (the third and fourth structural pillars) or that story might have some substantial fatal flaws.
You Still Have to Have a Goal
With or without a strong character arc, know that you still must have a protagonist with a clear goal. A thriller in which a character is being chased and is running for his life (makes me think of The Bourne Identity and other such thrillers—which I enjoy immensely) may seem like a protagonist without a goal. But, to the contrary, Jason Bourne and the like have very clear goals. The goal may be to get through/out/somewhere alive. And Jason Bourne not only needs to find a place of safety; he also needs to find out who he really is, which is the kicker to the basic chase-'em concept. Thrillers that appear to have no real protagonist goal often have a very strong and obvious one.
So can you create any ol' protagonist? Sure you can—but that doesn't mean readers will want to read your book. I'm surprised at how many manuscripts I edit and critique that have either no defined protagonist or one I really don't like. Oftentimes beginning writers have a confused notion about the character arc, thinking that if they open a novel with a really dislikable character who changes by the end of the book into a really likable guy, that's the ticket. Sorry to say, it's not.
Don't Make Me Wait to Like Your Protagonist!
Why? Because readers want to get engaged and start caring for that protagonist right away. Did I say "right away"? I did. Meaning, within the first few pages. Preferably on the first page. Try the first paragraph (of the scene in which you introduce your protagonist. It may not be your first scene).
Sheesh, is that really so important? The closer you can get to the first paragraph in hooking your reader's interest in your protagonist, the better. Not a whole lot of readers are going to patiently wait for an author to show something compelling about the protagonist. How long are they willing to wait?
I'll wait quite a while, if it's a book by an author I love. I trust (and hope) they will bring me to that place of contentment quickly. But if not, I'll give them a few pages, maybe even a chapter or two. And then I will give up. But I won't give that much leeway to an author I'm unfamiliar with.
If readers are reading your book, and they are not faithful fans, don't expect them to stick around waiting to like your protagonist. Not in this instant-gratification fast-food age. People today want things to happen fast—their web pages to load, their food to be served in record time, and for slow cars to pull over so they can speed by to their destination. Maybe some evocative writing and an unusual setting might buy a few pages of readers' attention. But not too many pages.
Don't Risk Losing Your Readers
I'm sure there are moans of disagreement out there. However, why risk losing your readers if you don't have to? You don't have to sacrifice your integrity or writing style to accomplish this feat of presenting an appealing protagonist. And there are many ways to make a character appealing. But the best way is to show vulnerability. Start your novel with a scene in which your character's passion, core need, and deepest fear comes into play. These key elements show that a character is human, like you and me. Passion, need, and fear show not only vulnerability but humanity. And what bonds reader to character the fastest is a sense of sympathy. When you create a sympathetic character, that's what will hook your reader and make her want to know more.
If you have this is your primary goal for your first scene—to make the reader really like and care for your character—you may have to rethink the starting point for your book. Too often novels start in the wrong place. And usually in places that don't "showcase" well this vulnerability and humanity that's needed.
So next week, we'll go even deeper into your protagonist and take a look at negative or dark "heroes" and how these concepts of goal and vulnerability come into play. In the meantime, start thinking about your main character and ask yourself some tough questions about how you are showing her humanity and vulnerability, and whether you are opening your novel with just the right scene to reveal her core need, greatest fear, and/or deepest passion (which should tie in with your book's theme).
Inspection checklists:
Inspection Checklist 1-concept with a kicker
Photo Credit: San Diego Shooter via Compfight cc