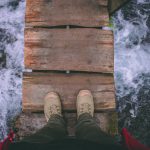 Today's guest post is by Emma Eggleston.
Writing is your passion. You spend hours dreaming up the perfect characters and their marvelous adventures, months writing the first draft, and weeks rewriting, editing, and tweaking your work.
All your friends and family have read your manuscript, and they absolutely love it. You are at the point where you are satisfied with the story you have created. You research the top literary agents for your genre, craft a flawless query, cross your fingers, and bravely send out your submissions.
Then, you wait.
Slowly, the responses start trickling into your in-box. Your heart starts to race as you click that email notification and prepare yourself to read the message. Your eyes quickly scan the words, and your stomach drops when you realize it's a no.
Time after time, you find yourself facing rejection. Your book is your baby; your characters are your best friends. You would be lying if you said the rejection didn't hurt. Now, you are questioning whether or not your book is as good as you thought. Months of sacrifice and weekends spent agonizing over your manuscript only to receive disappointing responses leaves you feeling like throwing in the towel altogether. Continue Reading…