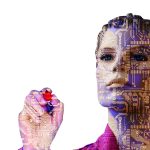 Today's post is by Nina Schuyler.
With ChatGPT creating stories and essays in seconds, many writers, including me, are undergoing a profound existential crisis, wondering if we're in the process of being vanished. At the PEN America Literary Awards, David Sedaris said, "I don't think anybody's job is safe."
We're at an inflection point, and there is a sense that everything is different now. ChatGPT reached 100 million active users two months after launch and has more than 13 million daily visitors as of 2023. With the genie out and running madly, hair on fire, the question is not how to stuff it back in the bottle but what do you want from AI?
Claiming some dominion over this powerful technology might alleviate anxiety. A kaleidoscope of options—rapidly growing—is available: translating, editing, researching, copyediting, and the biggie, creating content.
Each AI possibility brings with it an ethical decision: to use or not to use. At what point does the finished product no longer feel like your own? Every writer will have to grapple with this, and it's likely dependent on what you're writing: fiction, blog posts, newsletters, articles, and on and on. Continue Reading…