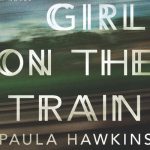 As we've been seeing each week in this exploration of first pages, openings to novels carry a heavy burden. It's the make-or-break page for the reader. Many people won't read past the first page if it fails to engage their interest. So writers need to pay huge attention to the first page—maybe not so much at the first-draft stage, but at some point before that novel is submitted to agents or published.
First pages need to be tight, with concise description, and jump right into dynamic action and hint of conflict. Every word counts, so excess verbiage and unimportant movement and speech must be eliminated.
We're using my first-page checklist to go through the author's first page to see why it effectively draws the reader quickly into the story. While novels don't have to have every one of these checklist elements on the first page, usually the more they do have, the stronger the opening.
Today we're going to look at my favorite read of last year—The Girl on the Train by Paula Hawkins. I was a bit wary upon reading the first few pages because, for me the opening was a little slow, but it quickly become riveting, and like a train barreling down a steep ravine, the novel kept me breathless and hooked until the last page. Continue Reading…