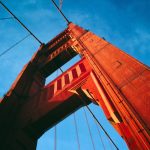 Last week I introduced you to my scene template. I can't emphasize enough how helpful it is to lay out all (or most) of your scenes before you start writing. Or if you've already written a rough draft, how useful it is to summarize each of your scenes in the scene template and look carefully at what you have.
Outlining your novel, scene by scene, is like crossing a bridge. On one side you have all your scene ideas in a jumble. On the other side is your complete novel that tells a beautiful, tight story. To get across that daunting chasm to the other side, you need to take one step after another, steady, strong, and purposeful. Each scene is a step to the finish line, and none should veer you in the wrong direction (over the railing into the brink!).
In addition to editing and critiquing manuscripts, I review scene outlines. Many of my clients have gone on to write terrific novels using this scene template. Some have me critique their outline crafted within the template. Others use the template to work out their scene details, then write a briefer scene outline with just one paragraph per scene (including the key points in their paragraphs).
I encourage you to have me go over your material and give you honest, constructive feedback so you can see how on track you are with your scene structure. Contact me so we can discuss! Continue Reading…