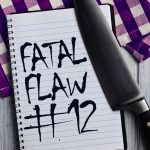 Today Robin Patchen takes a look at cadence and rhythm as we begin to wrap up attack on Fatal Flaw #12: Flawed Writing Mechanics. Don't miss the other posts that tackle this important topic (start with this one).
If your readers wanted poetry, they'd pick up a Robert Frost anthology. Or perhaps Emily Dickinson or Shakespeare, right?
I don't think so.
Yet, readers are looking for poetry, even if they don't know it.
Well, maybe not poetry, but cadence. Readers want to hear words put together in beautiful ways. They want sentences to roll like waves or batter like bullets. They want to see alluring alliterations and evocative metaphors.
Readers long for beauty in words the way tourists seek out beauty in landscape and architecture. Perhaps they fly to Paris for the wine and cheese, but they'll admire the Notre Dame on the way to dinner, and the trip will be richer for it. Continue Reading…