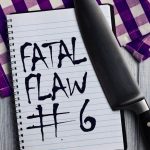 Editor Robin Patchen wraps up our examination of Fatal Flaw: # 6 Show, Don't Tell. Writers often succumb to this fatal flaw of fiction writing, explaining and telling and summarizing instead of showing action as it's happening. Robin gives some great tips on how writers can show by action and thoughts rather than by relying on describing bodily sensations. Be sure to pay attention to this one! (If you missed this month's post on this fatal flaw, start with this one here.)
This month, we've been studying that famous axiom for fiction writers: show, don't tell. Today, I'm going to tackle what I think is the most difficult thing to show in our novels—emotions.
If you've been writing for a while, no doubt you've heard it's not acceptable to name emotions. Don't tell us Mary is sad. Show us she's sad.
Many writers lean on a clever trick to show emotions—they describe a character's physical reactions to emotions. So characters are often crying, yelling, and slamming doors. Their stomachs are twisting, their hands are trembling, and their cheeks are burning. We hear exasperated breaths and soft sighs. Don't even get me started on heartbeats. Some characters' hearts are so erratic, I fear they're going into cardiac arrest.
So What's a Fluttering Heart to Do?
I'm poking fun, because I do it too. It's an easy way to show emotions. But I have a few problems with this old standby. First, these things are so overused, they've become cliché. (I know your stomach is twisting at the very thought.) Second, having a character clenching his fists might show us he's angry, but it doesn't show us the impetus for that anger. Is he feeling frustrated, slighted, or jealous?
All those—and a host of other primary emotions—can lead to anger. Finally—and to me, this is the most important—showing me your characters' physical responses provokes no emotional response from me. Your hero might clench his fists, but I promise, mine will remain perfectly relaxed. So you might have shown an emotion, but you haven't made your reader feel anything. And that, my friends, is the point of fiction—to elicit an emotional response.
Let's take a look at some effective and not-so-effective ways to show emotion.
BEFORE:
Mary opened her eyes and looked at the clock. Her heart nearly leapt out of her chest. The baby had slept nearly eight hours. But little Jane never slept more than four hours at a time. Something must be wrong.
Not again. Her stomach rolled over when she remembered the last time a child of hers had slept too long.
Mary flipped the covers back and stood on weak knees, forcing herself to her feet despite the fear overwhelming her. She shoved her arms in her bathrobe, slipped into her warm slippers, and rushed for the door. Her hands were shaking so badly she could hardly turn the doorknob. Finally, she got the door open and ran down the hallway toward the nursery.
She threw open the door and lunged at the crib. She peered inside and saw the beautiful pink cheeks of her newborn daughter. She placed her trembling hand on Jane's back, felt the even breaths, and let out a long sigh. Tears of gratitude filled her eyes as she realized her baby was alive.
Our character is definitely feeling emotions. Do you think I can get the reader to experience a few of them? I'll give it a try.
AFTER:
Mary opened her eyes and squinted in the sunshine streaming in through the open window. She stretched, feeling more relaxed than she had since . . .
She sat up and looked at the clock. It was after eight. Little Jane had slept through the night. For the first time.
Just like Billy.
Mary flipped the covers back and stood. She snatched her robe from the back of the chair and slipped it on. She wouldn't think about Billy. The doctor said it wouldn't happen again. The odds against it were astronomical.
Billy had been nearly six weeks old. Jane was almost two months. It was different this time. It had to be.
She slipped her feet into her fuzzy slippers, ticking off all the ways the situations were different. Billy had been sick. Jane had never even had a sniffle. Billy had been fussy. Jane was nearly the perfect baby, only crying when she was hungry or wet.
She must be both hungry and wet right now, but little Jane was silent.
Just like Billy.
No, God wouldn't do that to her again. She couldn't bury another child. She wouldn't.
She stepped toward her bedroom door, remembering Billy's skin, how gray and cold it had been. At first, she'd thought maybe someone was playing a mean trick on her. But then she'd lifted him. Seen his face. Those gray lips and lifeless eyes.
Maybe it would have been different if she hadn't been alone when she'd found his tiny body. Maybe if John had been there. But John had been gone on a business trip.
Mary turned and looked at the empty bed. Her side was a jumble of blankets. John's side was untouched. He was on a business trip. Again.
He'd rushed home that day two years earlier, assured her it wasn't her fault. How could she have known?
How indeed? How did a good mother sleep through her own child's death? How did she dream of beaches and butterflies while her son passed into eternity?
If Jane was dead, Mary would join her. Somehow. She couldn't live through this again.
She stepped into the hallway and took a first step. A good mother would run, but she could hardly force herself to walk. She inched her way down the hall.
She glanced at the stairs. What if she went to the kitchen, made some coffee? Never found out the truth?
She pushed the thought away and continued past the staircase, paused at the nursery door, and laid her hand on the cold metal doorknob. The clock ticked loudly in the hallway, like a steady heartbeat.
She stepped into the room and approached the crib. And there, sprawled on her back, lay the most beautiful sight she'd ever seen.
Jane's eyes opened at the sound of Mary's approach, and she smiled.
I hope you had at least a twinge of emotional reaction to that. I know I did. Please notice, there's not a single beating heart or trembling hand in that example. Her stomach doesn't clench, and her eyes don't fill with tears. Yet she felt a lot of emotions. Did you?
Slow It Down
Counselors tell us that thoughts lead to emotions, and emotions lead to actions. As a writer, you can easily show your character's thoughts and actions. Readers are smart enough to deduce the emotions based on what the characters think and do. So often it seems writers are in a hurry.
When you have a very emotional scene, slow it down. Let us hear your character's every thought. Highlight a few details. Show the actions.
Why don't we write like this? For one thing, it takes a lot longer. My first example is fewer than two hundred words and took me about five minutes to write. The second is closer to five hundred and took nearly half an hour.
Writers have to dig a lot deeper to write selections like the second one. I had to remember what it was like to be a new mother, put myself in the shoes of a woman who'd already buried one child, and try to feel what she would feel. Not comfortable, let me tell you.
And you see a bit into my soul, don't you? What kind of mother would even consider going downstairs and making a pot of coffee? Yet as I put myself in that scene, I looked at the stairs, and I thought about it. Showing emotions means baring your soul.
Sure, it's fine to have some lines showing emotions by way of bodily response. But don't limit yourself to that technique. I hope this example helps you see ways you can elicit emotion in your reader through thoughts and actions.
But showing emotions can pull your reader in and get them to feel right along with your hero and heroine. And isn't that the goal?
Your turn:
What stood out to you as you read the After example? What lines gave emotional impact?
---
Want to master the emotional craft of fiction?
In this course, you'll be given tools to show emotions in your characters. You'll be given techniques to help spark emotional response in your readers. What is going to bring it all together for you is practice. Study and practice. And you'll have exercises in this course to help you put into practice what you learn.
There are two facets of emotion in fiction: conveying what your character is feeling and evoking emotion in your reader. We'll look at these two facets separately and in de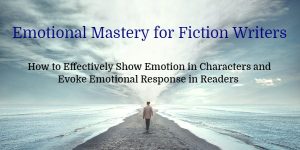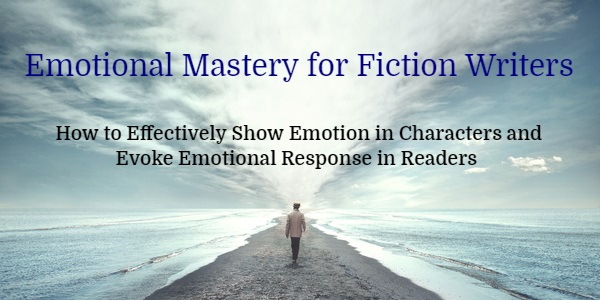 pth. Yet, they are intrinsically connected.
Emotional mastery requires writers to set up the dynamics of a scene in such a visual, textural way that readers can't help but feel what they are meant to feel. Understanding that emotional mastery requires a twofold approach—the emotional landscape of both the character and the reader—is the first step.
Want to learn how to become a masterful wielder of emotion in your fiction? Enroll in my new online video course, Emotional Mastery for Fiction Writers.
You'll get lifetime access to all the videos and more than three dozen downloadable assignments. And with a 30-day money-back guarantee, you have NOTHING to lose by jumping in. Sign up NOW.
This course will challenge you to become an "emotion master." Are you ready and willing to go on this journey deep into emotional territory? If you want your characters to move your readers, take the plunge!
Listen to my discussion on how to show emotion in characters. There is so much to this topic!