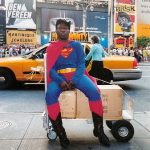 I want to talk a little about the introduction of your protagonist. The opening of your book presents a key moment that gives a first glimpse or impression of your main character. You know what they say about first impressions—they tend to stick with you and are hard to erase. If someone rubs you the wrong way when you meet them, it's sometimes hard to get past that initial feeling. It almost feels a bit embedded in concrete. So it is with your characters as they walk upon the stage of your novel. If you're at a party and you meet someone dull and completely unappealing, you're not likely to pay much attention to them from that point on. So too with your characters. You don't want them to come across boring. Of course, if you need a character to be a bore, make them an interesting one. The key always is to make your characters a bit larger than life. But, I don't want to go off on tangents into character development. There will be time for that in future posts.
 "Average and Ordinary" Is Just Plain Boring
So, you're thinking you want your protagonist to be an average "everyman" type of guy—that way the reader will be able to relate to him, right? Wrong. Who wants to read about uninteresting average people? No one. Sure, we want to be able to relate in some ways with your protagonist, but we are reading to be engaged, entertained, enthralled. And a boring, flat character is not going to incite those feelings in us.
So, just how do you create a sympathetic, intriguing character and be able to get the reader to care about her on the first page? It takes some planning and thinking ahead to pull this off. And believe me, a lot of readers are going to lose interest by page three if you haven't given them a good reason to care. That's why we put our protagonists in a present-action situation that allows us to reveal a bit about the heart of our character. As discussed in previous posts, we have to point out the visible goal of the character right away, but we also need to see her heart.
 Create an Immediate Bond
Donald Maass, in his great book The Fire in the Fiction, says that to "create an immediate bond between reader and protagonist, it is necessary to show your reader a reason to care." And to do that, he says we have to show a "glimpse of greatness." Just what does that mean? Our protagonist may not be all that great; in fact, he may be a real loser. Again—would we want to keep reading about a loser? We might . . . if we see he has a glimpse of greatness. All this means is that you show a piece of this character that is heroic—which can be translated into many things like noble, virtuous, passionate about something significant, humanitarian, self-sacrificing, or some other attractive quality that pulls us toward him. And this doesn't mean you have to open with a scene where the loser jumps overboard and saves a drowning child in a huge storm at sea. That might come later, near the climax of your novel. What it does mean is that somewhere in that first scene, and preferably in the first page or two, you will want to show (not tell) your character doing and/or saying something that makes us think he's got something redeeming and special about him.
Greatness
Greatness doesn't mean a person is great. You can have a sympathetic, dark, brooding character—a negative protagonist—that's going to change and become an amazing person at the end of the book. But you can't expect your readers to trust that you'll get him there if you don't give a glimpse of his potential at the outset. If you have a dark protagonist, show that they're not happy being this way, that they want to change. A great character is not shown by who they are but by the impact they have on others. So think impact. What can you have your character be doing as the book opens that will allow the reader to see that your protagonist might have the potential to affect change? Maass says, "Great people do not leave the world unchanged."
This week, think about some great characters you love. You can surely think of great characters in literature and current novels that have really worked their way into your heart. If you have any of those books on hand (or they're available to look at on Amazon.com—often you can read the first few pages there), read the first page or two and underline the place(s) where the author was able to convey this greatness in her protagonist. If you go through and study many well-written novels, you will start getting an idea of how to subtly and simply show a glimpse of greatness. And that is exactly what you need to get your reader to care.