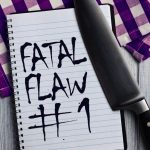 We're wrapping up our look at Fatal Flaw # 1: Overwriting. Fiction writers often overwrite, and have trouble seeing how this manifests in their work. Our savvy editors have covered repetition and redundancy, how much detail to include and leave out, and just plain clunky writing. This week editor Robin Patchen dives into purple prose to show you what that is and how to avoid it in your writing.
What do you want people to experience when they read your novel? Do you want them to marvel at your fabulous writing skills? Are you hoping they'll be impressed by your outstanding grasp of grammar? Perhaps you want to dazzle them with your exceptional vocabulary?
Or do you want them to experience a story?
Truth is, often times, you can either impress people with your prose or you can tell them a story, but you can't do both. So many of my editing clients' manuscripts are riddled with prose so filled with flowery language that the meaning is lost. I find myself offering the same advice over and over, my take on Nike's slogan: Just say it.
Throw Away Your Thesaurus
Okay, don't throw it away, but hide it in the far corner of a cabinet. Focus not on how to impress your reader but on what your character actually sounds like. Are you writing from the point of view of a thirteen-year-old girl? Get in her head. (I know it's scary in there, but do it anyway.) Is your character a middle-aged insurance salesman? His voice is going to sound much different from that of a young mom, or a soldier, or a New York City taxi driver. What kinds of words does your character use in daily life? Does he speak in long, complex sentences, or does he have a more straightforward style? Is he funny? Snarky? Bitter? Maybe you have one of each in your novel—excellent.
But I bet, in real life, none of them speaks in purple prose.
Following, you'll see two paragraphs about the same event. The genre: contemporary fiction. The character: a twenty-eight-year-old schoolteacher.
BEFORE:
The tempest bore down, the sky temporarily the victor in its ever-present battle with the verdant fields below, enraging lands and inciting them to bombard their treasures skyward. And I, the lowly pawn in this game not of kings and conquering foes but of sky and earth, sought refuge in my humble home. My paternal figure had commanded me when I'd first taken possession of the modest abode that in the miniscule space beneath the risers would I find shelter from the storm, so there now I went, huddled astride cardboard receptacles filled with the paraphernalia of my fleeting existence.
Ah, what future could there be for me now? Perhaps in the Immortal's perfect knowledge, He has been right to close my eyes to what lies ahead. Had I but known this torrent was bearing down, would I have had the courage to go forth? Yet as the whirlwind neared, I surrendered to myriad misgivings about my present circumstances. Would that there had been a beau, one true amour, to live out these last few moments of breath. Alas, alone I reclined and wondered—might there be some purpose in this storm?
AFTER:
If I had known that the tornado blowing through that May afternoon would be nothing compared with the storm that would brew in my life in its aftermath, I may never have left my shelter. Maybe that's one of God's greatest gifts—that shielding of our eyes from the future. There's a stretch of highway west of Oklahoma City where I swear it's so flat and straight you can see all the way to Amarillo. If we could see that far into the future, we'd never hit the gas. In the same way, if I could've seen what lay ahead for me, I might still be hiding in that closet.
But God's so much smarter than I am. Think what I would have missed.
Obviously, I wasn't thinking about my future when I was crouched in the closet beneath my stairs. Well, not beyond wondering if there would be a future. Tornadoes will do that to you.
As you may have noticed, the passage hasn't been just edited, it's been rewritten. The more purple the prose, the less of it you get to keep during your rewriting process. And in this case, the prose was beyond repair. What did I do to repair it? First, I considered who the POV character was. In the first passage, what can we learn about the character? She's most likely a woman, based on her desire for "a beau, my one true amour . . ." What else can we learn about her? Hmm . . . she has a great vocabulary.  That's about it.
Next, let's consider the genre. If this story were a historical, different language and sentence structure might be called for. Not the way I wrote above in the Before segment—please, never like that! But perhaps it would be different from the way we speak today. So what do you think? Did the Before paragraph scream contemporary fiction to you?  Didn't think so.
Another thing to consider when looking at your favorite "purple prose" passages—what are the circumstances? From the Before paragraph, we can deduce that a dangerous storm is on its way, and our POV character is in its path, afraid for her life. So, put yourself in our schoolteacher's shoes. You're about to be hurled by an F-4 all the way to Kansas (and you're not wearing your ruby slippers). Would your thoughts mirror those in the Before segment? Mine wouldn't either. (Of course having lived through a similar circumstance, my thoughts were more like, "Please don't let it hit us. Please don't let it hit us . . ." but that would get boring after a few paragraphs.)
Finally, think about what you're trying to accomplish with your scene. In this case, these are the first few paragraphs of a novel, so it's important that they set the right tone—for both the novel and the character.
So taking into account the character, the genre, the circumstances, and the author's purpose for the scene, the rewritten passage conveys language that should better appeal to readers and make them want to read more. In the After segment, you can hear the character's voice. Your paragraphs should sound like your characters' voices and reflect your writing style. Personality on the page—that's what you're looking for.
And nobody loves a smarty-pants.
Your turn:
Do you struggle with the temptation to write purple prose? Do you ever stop to look up words in the dictionary that you come across in a novel you're reading? How do you feel when you encounter a lot of words you don't know? How can writers balance their creative use of vocabulary with the need to be clear and simple in their prose?  Any thoughts?
Has this month's look at overwriting helped you spot your fatal flaws? Share something you learned about overwriting that you didn't know before!