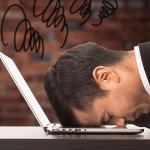 Less is more. More impacting. More riveting. More intriguing. Throughout history, marriages have failed and wars have been won or lost over a mere word or two. Jesus said, "Let your yes mean yes and your no mean no." Simply stated, as was his style.
I often share with my clients something my eleventh-grade English teacher used to spout frequently: "Say what you mean. Don't say what you don't mean."
The best way to say what you mean is to use only the words you need—the most appropriate words for your context—and discard the rest. Think of the pages of your novel as expensive real estate. Writers who want to write well should aim to be as picky about the words they string together as the foods they eat or the clothes they wear. Pickier.
Bogging Down Your Writing Is a Bad Thing
Your novel's pacing will be greatly affected by word choice. If you bog down your sentences with unnecessary words, your scenes will drag. In addition, using boring, flat, or weak verbs and adjectives will make the reading dull, no matter how exciting your plot might be.
Take a look at this Before passage and see if you can spot some of the problems. Then read my revision and compare. Continue Reading…