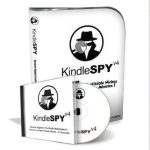 Recently I wrote some posts on targeting genre for big sales, as this is a topic that I've been very interested in, personally, for years. I always wondered just how much genre had to do with a novel's success, and when I did my "experiment" a couple of years ago by writing in a genre that purportedly "sold itself," I proved to myself (and perhaps to many others) that genre really matters. (If you didn't read my blog post on The Book Designer that went viral in the writing world, take a look at it here. )
My aim was to write a novel that carefully fit a big-selling genre and see if it would sell with little effort on my part. I used a pen name, and although I did a little bit of marketing—similar to what a new author would do—I was astounded by the sales I saw. Way more than all the sales I got from my other half dozen self-published novels.
Whether You're in It for the Money or Not
You might not care about making money off your books. But some of us have families to support and bills to pay. I felt guilty for years writing novel after novel that didn't sell, "wasting precious time" (my assessment) when I could have been working at Wal-Mart for minimum wage and at least bringing some money in.
Before throwing in the towel and giving up what I loved most—writing novels—I decided to give this writing life one last-ditch desperate effort. I promised myself that if this new book I planned to write did not make me any money, I would never write another novel again (believe me, this wasn't the first time I vowed this, but I really meant it this time!).
You may be in a situation to write whatever you want, regardless of market potential. You may not need the money. You may, like me, love experimenting and mixing genres and fleshing out those crazy ideas and structures you know probably won't turn into best sellers.
For you, maybe it's not about the money. Maybe you want the recognition. You want lots of super fans and for your peers to acknowledge what a great writer you are. Most of us want this, regardless of profession. We want to be recognized for our talents and abilities. We want to feel successful, that all our hard work shows. I don't believe there is anything at all wrong with this. We need validation and to be encouraged by results. We don't want to feel like failures.
So regardless of the reason, you might want to achieve some success with your book sales. And targeting genre is a great way to do it.
The Difficulty in Researching Hot Genres
In the aftermath of my viral post on targeting genre, a lot of writers contacted me and asked me how they could figure out which subgenres sold the best. I knew basically that some general genres sold well on Kindle: romance, mysteries, suspense, fantasy. But those are very general categories, and the niche I targeted was a very specific subgenre.
I asked experts in marketing what their thoughts were on this, and basically, after all my research, I came up with a blank. The bottom line is it would take a lot of participating in K-Boards and Goodreads discussions to find the threads that showed readers decrying a lack of novels in their subgenre.
This implies greater demand than supply. Which is a factor in big sales, to me. If there are a gazillion readers clamoring for books in a certain subgenre, and there aren't all that many books being released, those few authors are cashing in. This is what I see in the sweet Western Historical Romance subgenre (although now the competition is growing—probably the result of my blog post!).
The Best Tool I've Seen for Authors
So imagine the thrill I felt when I learned about KDSPY. It was exactly the app I needed to uncover all the info—accurate data, not guesses—on which subgenres sold well and why.
Called "The Ultimate Kindle Spy Tool," KDSPY is probably one of the most valuable tools an indie author can utilize. This unique software application essentially reverse engineers the Kindle marketplace and shows you which niches sell well, which have much or little competition, and how much revenue the top-selling books in that niche have made in the last thirty days.
There are so many features that I love with this app:
It's easy (and inexpensive!) to load and use, and integrates into your browser for easy access.
It gives you gobs of pertinent info that will help you determine what niches are selling.
It allows you to look at any author's page and see her actual book sales and rankings for every book she has on Kindle for the last thirty days.
It shows you the main keywords used by the author for a particular book (which is also broken down by use in title and in description).
In seconds, sometimes with just one click, you can see a wide landscape regarding genre and revenue, helping you make marketing decisions for your book. Or helping you decide what your next book will be.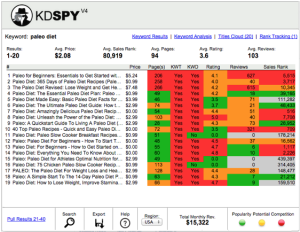 And, once you've gathered data for the category you're interested in, you can click on the keyword button that will give you a word cloud that shows all the words that the best-selling books use in their titles and descriptions.
Why is this great? Because this data can help you tailor what you write, or market what you've already written, by giving you proof (not claims) of what's already working for other Kindle publishers. KDSPY shows you the best-selling niches to go after, and even shows you the words to use in your book titles.
One Way This App Helped Me
Here's just one example of how this tool helped me make a decision. I write historical Western romances. I spent time researching using KDSPY checking the best-selling titles and their keywords, wondering just which keywords and categories would be best for my books.
Since my books could go in the inspirational romance category (because my characters do express their faith, attend church, and pray), I wondered if I should choose that as one of my two categories on Kindle. When I peeked at the best-selling titles and authors in my subgenre and compared the general market sales and competition to the inspirational market sales and competition, there was a huge difference. Overall, the inspirational market monthly sales revenue for a best-selling book was about one-tenth of the general market. I decided not to use that category, since it was clear the market I'd be targeting was smaller and afforded less opportunity for big sales.
Other Perks
Another thing I found very helpful with KDSPY were the short video tutorials on the site that showed me exactly how I could effectively use this tool. There are so many other ways you can benefit. For example, you can use the book-tracking feature to tag certain books and track their sales via a daily sales rank and revenue chart.
You can imagine how useful this is when looking at your competition. You can track your own books as well to examine the results of your marketing efforts, or to see if your sales go up and down when you change your keywords.
I am continually shocked to see how few sales many best-selling authors are currently experiencing, or how only one book in their arsenal is making a killing, whereas their other book sales are flat. In contrast, some first-time authors are making big five-figure sales per month per book. I wanted to know why and how. This app gives me insights into their success.
Of course this is only showing you Kindle sales and not print sales, or sales from any other online venues. But Kindle accounts for most authors' sales these days, and for me, this is the data I need, that will most help me in my book sales.
KDSPY is a Chrome browser extension that is compatible with PC and Macs. Firefox supports this app as well, but at this time, these are the only two browsers you can use. All the data is exportable so you can put the results in a folder to refer to.
This app is great for both fiction and nonfiction books, and while it's not useable in every country, KDSPY has now been opened up to allow results to be pulled from the UK, Canada, Germany, France, Italy, and Spain. The customer support is excellent, which means a lot to me.
The cost at the time of this post for this app is only $47 US. I feel it's one of the best investments for authors, worth way more than this. I've never promoted a product on my website, so that should tell you something about how valuable I think this tool is. GET YOURS HERE! and start benefitting from this amazing tool. And I'd love to hear how it's helping you sell more books!
---
Want to learn how to target genre to sell big?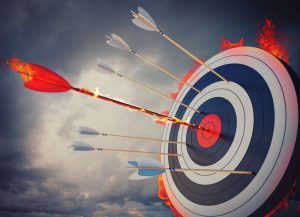 With 4,000+ ebooks published every day, you need every advantage to get discovered. Instead of writing a book and hoping it will somehow come up in the search results when a potential customer types in words in the search bar on Amazon, you'll have the best chance at topping those lists if you write to genre.
What does that mean? It means identifying a very specific audience for a specific type of book. If you write a mystery and only list it as "mystery" in your description and keywords, you are competing against hundreds of thousands of other novels. But if you search out a niche genre that sells well and doesn't have as much competition, you have an edge.
Part of targeting genre requires accurately identifying these successful niche genres. But another important factor is learning how to write to that genre. How to study other books that are selling big and emulate their structure and style, as well as use the best keywords in your promotions to get your book to fit in the slots right alongside those best sellers.
There's a lot to know to do this well, but it's not hard.
I floundered for decades trying to sell my many novels that didn't specifically fit a niche genre. Then, when I decided to write to genre, I went from selling a few copies a month to thousands. With hardly any marketing and using a pen name no one heard of.
You can do it too!
But there's a strategy to this. And steps you need to take to ensure your novel will have the best chance at discoverability.
I've made it easy for you!
Don't waste time trying to get your novels to sell. Be smart and treat your novels as products designed for specific consumers with specific needs. Once you learn to write to genre and target genre, it will be a game changer!
Enroll now and start gearing up to sell big. Isn't it time you experienced the success you dream of? Your audience is waiting to discover your books!