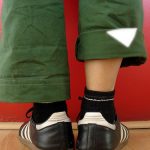 Often, when learning to write a novel, a writer may spend countless hours focusing on getting all the basics in hand: plot, structure, characters, and all those tricky components that take time to master. Usually writing style is ignored at first, and a writer's early attempts to just get words on the page are often clunky and/or derivative. And that's just part of the growing process.
Just as a toddler begins to speak by listening to and imitating the adults who speak to him, a new writer will often try to copy the writing style of other authors. Which is a great thing to do—at first. It's said "imitation is the best form of flattery," but it's also a smart way to learn. By studying and imitating the writing style of great writers in your genre (which we discussed in last week's post), you can get a feel for how to write your stories.
Emulation Is Fine for a Time
But at some point, you will have to let go of your tightly gripping hand and cross the street by yourself. There is probably no magic moment in which you suddenly have your own writing style, but I can recall many moments when I felt my unique way of writing beginning to emerge. I started taking chances, letting my imagination wander freely. I shut off the infernal internal editor and knocked the writing instructor off my shoulder and experimented.
More and more moments came to me in which I was writing freely with my own flair, unhindered and unburdened by all the "supposed tos" that were nagging me from the bleachers. I think by about my fifth novel I hit my stride. It was during the writing of The Map across Time that I felt I had found my writing style. I was in my groove. I had settled happily and comfortably into my writing style. And the cool thing was,  it carried over into all my subsequent novels of various genres.
It's Just a Learning Curve
This process is not all that dissimilar to learning to dance or do gymnastics or play basketball. There is a huge learning curve at first, but with diligence and a measure of talent and ability, you "get the hang of it."
Note, though, this is not something you get and then are stuck with. It's not like the birth of a baby, which, when it's born, you don't get to send back and revise. Your writing style is fluid, versatile, adaptive. Or it should be. And even better is the fact that you can have multitudes of various styles—as many as you like.
I wanted to spend some time talking about this because I edit and critique hundreds of manuscripts written by new authors. I see the various stages these beginners are in, and how they are attempting to develop a writing style. I often see writing that is very derivative or clearly structured to impress or to sound intelligent or clever. All in all, much of this comes across fake, forced, or awkward.
To Thine Own Self . . .
What's the key to finding and developing your unique writing style? I think a lot of it has to do with being true to yourself. Ugh, I know how that sounds. Yes, you may at first emulate other authors' writing styles. But there comes a point when you need to break through that wall separating you from them to establish your own special style.
So how do you know if you are being "true to yourself"? This may sound a bit New Agey, but I believe, as does author Elizabeth George, that if you listen to our body, it will tell you whether what you are writing feels true.
I wrote a post on this a while back, and what I'm saying, in essence, is when you write, try to listen to what your body is telling you. It will be honest with you.
Have you ever written a passage you really liked and wanted to use, but you had this nagging feeling it didn't work? Then, when you squelched that warning and shared your passage with your critique team, what happened? They all responded the same way. It doesn't work, they said. It feels wrong. Maybe they had more specific responses for you that helped you see why and in what ways that passage didn't work. But, hey, you already knew that. Or, you would have, had you listened to what your body was telling you.
There's an uneasy feeling of discomfort a seasoned writer gets when she veers away from a true and honest writing voice and starts forcing the style for one reason or another. Then again, a writer can just get burned out, or have days or weeks in which she feels uncreative and can't seem to come up with effective prose that feels like her true voice.
Lots of Ways to Inspire a Beautiful Writing Style
There are lots of ways to inspire creativity, to prompt ideas and the flow of beautiful writing (here, here, and here are some posts that might give you ideas). My favorite way, which I also picked up from Elizabeth George, is to try to read something terrific before I start writing. A half an hour prep time spent reading a great author's exquisite prose can often inspire me and jumpstart my stalled creative flow.
This doesn't mean you won't have to go back and diligently work on your passages. Fine-tuning by substituting word choices or coming up with similes or a catchy turn of phrase is part of honing your writing style.
You've probably heard the adage "garbage in, garbage out." And then there's "you are what you eat"—which could be rewritten to "you write what you read." Keep in mind that reading a lot of drivel (you can determine what constitutes that) can adversely affect your writing.
You may have thought I'd be teaching you how to come up with a great writing style all your own. Sorry, that is something you will have to do. But by studying hard and emulating great writers, you will be on your way. Then, it's a journey of many miles—not just a few blocks. Give yourself permission to let yourself go in your writing—perhaps freewrite, experiment with different tenses or tones, or use writing prompts to try out new styles.
Be wary of asking for feedback from others. Oftentimes well-meaning critics will end up curtailing your creativity. Conversely, if readers are noticing problems with your style, pay attention and see what you can learn from their criticism (which, I hope, is kind and encouraging).
So what are your thoughts? What has helped you to come up with your "true" voice in your writing? What do you struggle with? Any advice for new writers who are looking to develop a strong writing voice?
Inspection Checklists:
Inspection Checklist 1-concept with a kicker
Inspection Checklist 2-protagonist with a goal
Inspection Checklist 3-conflict with high stakes
Inspection Checklist 4-theme with a heart
Inspection Checklist 5-Plots and Subplots in a String of Scenes
Inspection Checklist 6-Secondary Characters with Their Own Needs
Inspection Checklist 7-Setting with a Purpose
Inspection Checklist 8-Tension Ramped to the Max
Inspection Checklist 9-Dialog Compressed and Essential
Inspection Checklist 10-Voice Unique for Each Character
Photo Credit: bilobicles bag via Compfight cc