Today's guest post continues the 12-part series I've launched in this new year: asking self-published authors what are the top 5 things they've learned in the last year. Last year I featured numerous guest posts from indie authors who'd been successful, and I noted the diversity of reasons for their success—some completely in contradiction to another's—so I thought it would be helpful to have more authors give their insights into the most valuable lessons they've learned. Hopefully it will help you navigate the convoluted and confusing maze of indie publishing and give you ideas on how best to spend your time so that it produces the results you desire in your writing career.
Today's guest post is from Debbie Young.
I'm a writer and blogger, I published my first book in 2012, and I also create customised WordPress websites for authors, so I've spent an enormous amount of time this year exploring the fast-evolving world of self-publishing. No doubt what I've learned will equip me to tackle with more confidence my ambitious self-publishing plans for the New Year: at least one book of short stories ("Tuning In," inspired by listening to the radio) and an anthology of posts from my personal blog, www.youngbyname.me. I hope that by sharing what I've learned, at the kind invitation of Susanne Lakin, I will also help you achieve your self-publishing ambitions for 2013, whatever they may be.
1) The generosity of the self-publishing community. Susanne's invitation is a prime example of one of the most significant things that I've learned this year: the genuine desire of indie authors all over the world to help each other succeed. I've never come across such a supportive community in any other industry, and it's been such a pleasant surprise. I've found many new author friends through blogs and websites, Google searches, social networks, and, toward the end of the year, the Alliance of Independent Authors, whose joining fee proved worthwhile within the very first month of membership. Throughout the indie community, the more support you offer, the more you receive: you definitely reap what you sow here.
2) The value of Twitter in the self-publishing sector. I joined Twitter a few years ago on a whim, when it was first in vogue, because I've always loved the challenge of a précis! But until this year I'd been making the mistake of treating it like Facebook's more compact cousin. I followed only people that I either knew in person or public figures whom I admired. Eventually I hit a wall, unable to see the point of it, and stopped using it.
But this year my attitude to Twitter was transformed, fittingly enough by a self-published guide, "Tweet Right" by Nicola Morgan. Having digested her advice, I realized that it was actually far more valuable if I followed people who I did NOT know in person. I immediately changed my approach. I unfollowed my friends and relations (sorry, folks!) and focused instead only on those relevant to my writing ambitions: other indie writers, writing and self-publishing coaches, self-publishing service providers, blogging experts, and book promoters. By clicking on Tweets with links to useful blog posts and online guides, I've picked up hugely helpful advice—and it's all been free of charge. I cannot recommend Twitter highly enough to the aspiring self-published writer.
3) What we've seen so far is only the tip of the iceberg in self-publishing. Since I published my book promotion handbook for indie authors, "Sell Your Books!" in October, I've been astonished to find just how many people have self-publishing ambitions. I had expected to have to explain the concept of self-publishing to friends and neighbors before they would understand the point of my book, but this hasn't been the case. Acquaintances have stopped me in the street to tell me of their own plans to self-publish—or their mother-in-law's/husband's/grandchildren's. This awareness will continue to grow as more people embrace e-readers, and so discover the growing number of self-published e-books online. Self-publishing is going mainstream! That's exciting—but it's also challenging, because there will be more competition out there for the average indie author!
4) The modesty of self-published authors. Earlier this year I started reviewing self-published authors' books on my book promotion blog (www.otsbp.com), because I wanted to do my bit to promote the excellence of the indie sector. When I post a new review, and I let the author know, I've often been met with self-deprecation, as if their books don't merit my praise. One really first-rate writer told me that my review came at the right time because she was going through such a period of self-doubt that she was considering giving up writing. I was completely taken aback by her low self-esteem, which is not atypical of the writers I've reviewed.
I guess the lack of endorsement by a traditional publishing company makes the self-published writer more prone to self-doubt. I'm worried that such insecurity may inhibit them from promoting their work, so of course I do my best to encourage them. This is another reason why it's good for authors to take advantage of the camaraderie of the indie community: it will keep you going if you're having doubts.
5) The growing ease of self-publishing does not make it any easier to write a book! None of the year's technological advances in self-publishing have made it any easier or faster to actually write a book. When I saw the first physical copy of my new book, I felt slightly deflated that it wasn't as thick as an encyclopedia, so much time and effort had I put into researching, writing and editing it!
But of course, it's just the home strait of turning your typescript into a print book or e-book that is so much simpler and speedier with self-publishing. I'm just thankful that we live in the digital age, when I can type everything onto my laptop and edit with ease. How anyone ever lived long enough to write and hone even the shortest book longhand, with pen and ink, is beyond me. Tolstoy, I take my hat off to you!
Thank you, very much, Susanne, for allowing me to share on your excellent website my experience of self-publishing in 2012. To all your readers, whatever your self-publishing ambitions for 2013, I wish you the very best of luck!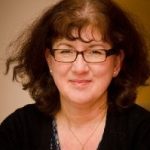 Debbie Young is an English writer, blogger and book promoter who also produces customised WordPress websites for indie authors. Her publishing-related website, which includes a blog of book promotion tips and reviews of indie books, is at www.otsbp.com (short for the name of her consultancy, Off The Shelf Book Promotions). Check out her personal blog  here. It includes details and sample stories from her personal publishing projects for 2013. She also works part-time for the children's reading charity, Readathon, encouraging young people to read for pleasure (and so also helping to raise a future generation of readers for us all!)
Her book promotion handbook for indie and self-published authors, "Sell Your Books!", was published by SilverWood Books in October 2012 and is available worldwide as an e-book and a paperback, from Amazon and all good bookstores.
Debbie is a member of the Alliance of Independent Authors, she belongs to GoodReads and is on Twitter as @DebbieYoungBN (the BN is short for "By Name" as her personal blog is called YoungByName).